DYLAN NEWS:
see old archived news at the Articles page
>The Bootleg Series: Volume 9 (supposedly the Witmark Demos and Leeds Demos from 1962-1964) will be released in October.
>Bob Dylan through John Wesley Harding are being remastered from the original LPs in mono and being released on CD to have the vinyl sound.
----------
Come gather 'round people,
where ever you roam...
Welcome to my Bob Dylan webpage! On this loverly site, I'll have dozens of wonderful photographs, my personal favorite links, polls, essays, and much much more! I promise you I'll update it as often as possible, letting you know all the latest Bob Dylan news and concert tours. I really hope you enjoy this site, and if you have any comments or questions, feel free to email me with your thoughts. Thanks for stopping by!
*PEACE*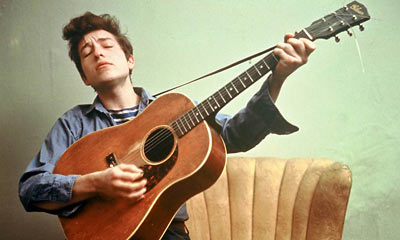 I married Isis on the fifth day of May,
But I could not hold on to her very long.
So I cut off my hair and I rode straight away
For the wild unknown country where I could not go wrong.

I came to a high place of darkness and light.
The dividing line ran through the center of town.
I hitched up my pony to a post on the rise,
Went in to a laundry to wash my clothes down.

A man in the corner approached me for a match.
I knew right away he was not ordinary.
He said, "Are you lookin' for somethin' easy to catch?"
I said, "I got no money." He said, "That ain't necessary."

We set out that night for the cold in the North.
I gave him my blanket, he gave me his word.
I said, "Where are we goin'?" He said we'd be back by the fourth.
I said, "That's the best news that I've ever heard."

I was thinkin' about turquoise, I was thinkin' about gold,
I was thinkin' about diamonds and the world's biggest necklace.
As we rode through the canyons, through the devilish cold,
I was thinkin' about Isis, how she thought I was so reckless.

How she told me that one day we would meet up again,
And things would be different the next time we wed,
If I only could hang on and just be her friend.
I still can't remember all the best things she said.

We came to the pyramids all embedded in ice.
He said, "There's a body I'm tryin' to find.
If I carry it out it'll bring a good price."
'Twas then that I knew what he had on his mind.

The wind it was howlin' and the snow was outrageous.
We chopped through the night and we chopped through the dawn.
When he died I was hopin' that it wasn't contagious,
But I made up my mind that I had to go on.

I broke into the tomb, but the casket was empty.
There was no jewels, no nothin', I felt I'd been had.
When I saw that my partner was just bein' friendly,
When I took up his offer I must-a been mad.

I picked up his body and I dragged him inside,
Threw him down in the hole and I put back the cover.
I said a quick prayer and I felt satisfied.
Then I rode back to find Isis just to tell her I love her.

She was there in the meadow where the creek used to rise.
Blinded by sleep and in need of a bed,
I came in from the East with the sun in my eyes.
I cursed her one time then I rode on ahead.

She said, "Where ya been?" I said, "No place special."
She said, "You look different." I said, "Well, I guess."
She said, "You been gone." I said, "That's only natural."
She said, "You gonna stay." I said, "If you want me to, yes."

Isis, oh, Isis, you mystical child.
What drives me to you is what drives me insane.
I still can remember the way that you smiled
On the fifth day of May in the drizzlin' rain.
::LAST UPDATED: August 18, 2010::
i just want to let everybody know that even though we are not always updating this site, me and my co-moderator marie are always on the look out for news and other things that we can update on. we try to keep this site fresh and informative. if you find something relating to bob dylan that we have overlooked, but you would like to share, please feel free to email us. you can find the email address on the 'contact me' page.
SITE UPDATES:
>Check out all the latest news.
>A page for Dylan's newest studio album with updates as they come.
>I have removed candid photos taken of Sara and Anna Dylan's homes, and certain photos of Desiree, due to concerns some of our readers have voiced over privacy. It was never our intention to endanger any of Dylan's family members and understand the concern. However these photos will remain in our private collection.
>New addition: Françoise, a page created to dispell the rumors of Françoise Hardy and Bob Dylan's relationship.
+ We want to dedicate this website to the memory of our friend Sara, who loved Dylan as much as us, and helped us a lot. Wherever you are, I miss you so much. +
This site is on-going, but what isn't?