This page was created to dispell the rumors that have surrounded Bob Dylan and French chanteuse Françoise Hardy over the years.
---
The following information was relayed to me by a contact in Paris who is very close to Françoise Hardy ("She is a very close friend - my best friend, after my wife and my children...I have asked her to come with me to hear Bob on stage, and then to go to meet him, but she always refused. 'It is too late now', she said to me"):
In 1961, the French singer Maurice Chevalier went to New York for a few concerts, and he asked to a young singer to come with him; he was called Hugues Aufray; it was early in his career. In Greenwich Village, he met Peter, Paul & Mary, and he was introduced to Bob Dylan.
A few months later, Bob came to Paris to meet Hugues Aufray and as they were at some terrasse for to take a coffee, Bob saw a picture of Françoise Hardy, who also was in the early years of her career, with a great hit, 'Tous les garçons et les filles", more than 1.000.000 LPs sold in a few monthes. Bob asked few questions about this beautiful young girl....
When Bob wrote poems for the back of Another Side of Bob Dylan, there was one dedicated to Françoise Hardy (at the Seine edge...)
At this time, Bob had yet to meet the singer.
In Olympia, on May 24th, 1966, Bob Dylan was on stage for his first concert in France - all of show-biz was there in the first row.
François Hardy was there, and after the the first part of the show (acoustic), a friend of Bob went to Françoise Hardy, and said to her that Bob would not return to the stage until he could meet her.
So she went backstage and Bob asked her to meet him after the show at his hotel the famous "George V", the most expensive in Paris ...
She was 22 years old, rather shy, and she did not really like this kind of party with so many people. In any case, Bob found her in the crowd, and she went in his bedroom only to listen to his new songs. Bob played at first "I Want You", which made her slightly uncomfortable, and the second was "Just Like A Woman".
After this time, Hardy and Dylan never saw each other again.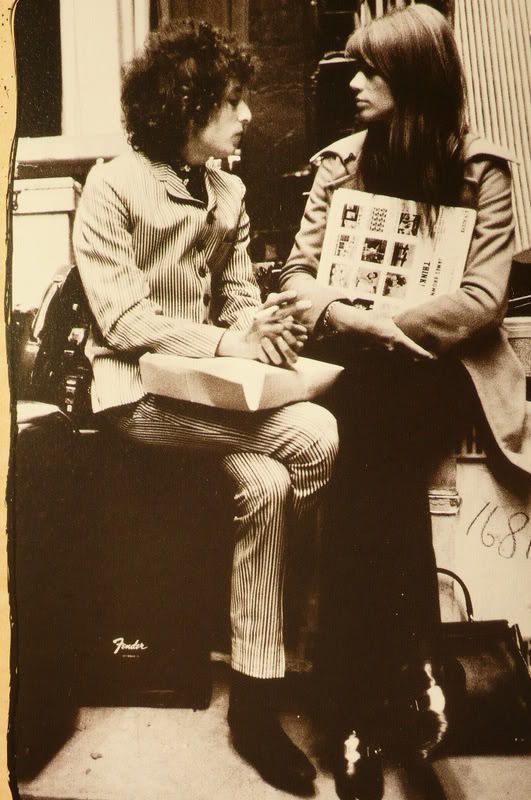 Bob Dylan and Françoise Hardy