Sara Lownds was born Shirley Marlin Noznisky on October 28, 1939. Her parents, Isacc and Bessie, moved Shirley and her older brother (16 years older) Julius to Wilmington, Delaware. When Shirley was a little girl, her mother had a stroke, after which her great aunt Esther came to look after the family. In 1956, when Shirley was finishing high school, her father was murdered and then 5 years later her mother died, leaving 21 year old Shirley alone in the world.
Shirley was a beautiul yong woman, with pale skin and dark hair, but it was her eyes that were most remarkable. They were sad eyes, perhaps expressing the pain of her early years. In 1960 she moved to New York City, and got a job as a bunny girl at the Playboy Club. She became a fashion model, represented by the Ford Agency, where she met her first husband, a photographer named Hans Lownds. Despite being 25 years older than Shirley, she became Hans third wife in late 1960. Peter Lownds (Han's son) recalls, "I came home from Yale, and Sara answered the door. I didn't know who she was, I saw that she was only 4 or 5 years older than me. I didn't know my father had gotten married again." The first thing Hans did as Shirley's new husband was change her name. "He said he couldn't marry a girl named Shirley, so he called her Sara", Peter Lownds says.
She continued modeling - appearing in Harper's Bazzar as "the lovely, luscious Sara Lownds" - but then she became pregent in 1961. On October 21, 1961, Sara gave birth to a baby girl she named Maria. Shortly after the birth, their marriage began to fail. While out in the Village one night she met a waitress named Sally Anne Bueler, and they became fast friends. When Sally married Albert Grossman in 1964, Sara was one of the guests.
Since Grossman was Bob Dylan's manager, he too attented the wedding,and that is where he first met Sara Lownds.

Dylan, with his mysterious muse in the background.

Brian Jones with Bob and Sara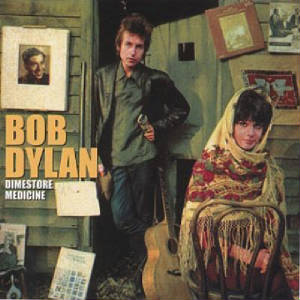 These two pictures where supposed to be used as the cover of what became "Tarantula"
Bob and Sara became seriously involved around late 1964. Sara remembered that she was surprised at how wonderful a father Bob was to Maria, how he treated her so good, like she was his own daughter.
The Chelsea Hotel in New York was bohemian, but for the most part safe enough for children to live in. This was important to Bob because he would be moving in with the family that would become so important to him.
On November 22, 1965, Bob and Sara were married (though Sara was pregnant at the time, the marriage was not seen as a mere wedding of convience). It was a very private ceremony, taking place on the lawn of a judge in Long Island; not even Bob's parents knew. Bob and Sara moved up to a beautiful home in Woodstock, New York. On January 6, 1966, Bob and Sara became the parents of a son, Jesse Byron Dylan. After his infamous motorcycle crash that year, Dylan lived the rest of the 60s in seclusion, caring for his adopted daughter Maria, and his four children, Jesse, Anna, Sam, and finally Jakob, who was born in 1972. Friends say that they never have seen Bob happier than during these years. "He just loved being with Sara and the kids. He was a wonderful father, and he loved having the role of 'dad'. And he and Sara couldn't have been more in love" says photogrpaher Elliot Landy, who met Dylan in 1967.
For a while, their life in Woodstock seemed contented. But by the early 70s, their relationship was breaking down. Dylan spent months on the road and his infidelities put a strain on the marriage. The release of Blood on the Tracks fuelled speculation about a split. He was spending time with several "lady friends" including actress Sally Kirkland and CBS A&R executive Ellen Bernstein (supposedly the subject of You're Gonna Make Me Lonesome When You Go).
Friends and family have described Sara as a good, loving mother, who shunned the limelight. Her only public endeavor was to play the role of Clara in Bob Dylan's film Renaldo and Clara (released 1978).
a still photo from Renaldo and Clara.
Sara, Dylan, and Joan
(more stills from 'R&C')
Linda McCartney, Sara Dylan, Paul McCartney, Gregg Allman, Cher, Bob Dylan.
The musicians and their muses. Bob Dylan and George Harrison with their wives.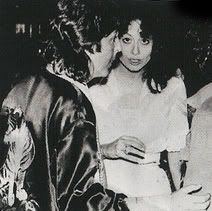 With Paul McCartney
Things came to a head during the second leg of the Rolling Thunder Revue in 1976, when, according to Joan Baez, Lownds showed up one night "looking like a madwoman, carrying baskets of wrinkled clothes, her hair wild and dark rings around her eyes." She lambasted Dylan in the car park, but that still didn't put a stop to his adulterous behavior. Stoked full of drink and drugs, he was going off the rails.
In March 1977, Sara Lownds filed for divorce. "I can't go home without fear for my safety...he has struck me in the face, injuring my jaw...my 5 children are greatly disturbed by my husband's behavior and his bizarre lifestyle."
After the divorce there was a bitter custody battle, which was settled at the end of the year.
It took a long time for Dylan and Lownds to be reconciled but now, 23 years later, the two are said to be friends; she even occasionally goes to his shows. At one point they even rekindled their relationship, and in 1983 he reportedly seriously considered remarriage to her. Lownds now lives in Beverly Hills, Los Angeles. Immortalized in the Desire track "Sara", Lownds was the love of Bob Dylan's life.
Mr and Ms. Dylan in the crowd
Dylan being watched by Allen Ginsberg, Joni Mitchell, and Sara.
Backstage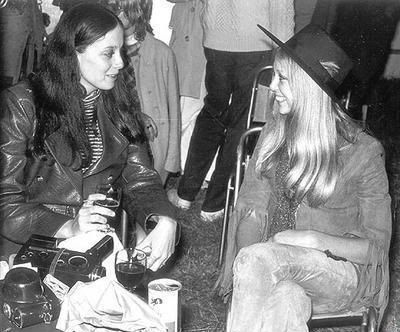 Backstage at the Isle of Wight Festival with Pattie Boyd
(from Renaldo and Clara)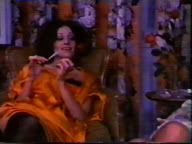 The decline of their marriage and Dylan's behavior are destroying Sara's powers, she looks worn out by then.