To go to my Joan Baez page, click here!
learn more about their relationship at the Girlfriends page.

Joan Baez met Dylan for the first time in 1961, at Gerde's Folk City in Greenwich Village. Joan's popularity as a performer was, by then, well established. But Dylan was the new kid in town, and was creating a stir among the folksingers in the Village even before he recorded his first album. In his earliest musical incarnation as a Woody Guthrie disciple, Dylan attracted attention for his guitar playing and distinct vocal interpretations of standards such as "House of the Rising Sun" and "Man of Constant Sorrow." One of his first original songs, "Song to Woody," caught Joan's attention and Dylan remarked to a friend that Joan wanted to record it (but, unfortunately, she never did).
Two years passed before their next significant meeting at the 1963 Monterey Folk Festival. During that time, Joan's popularity as the prevailing "Folk Queen" reached its zenith, and garnered her a cover story with Time magazine. Dylan was beginning to shed his identity as a Guthrie disciple and was becoming known for his own songs. By the time his second album The Freewheelin' Bob Dylan was released in May, 1963, Dylan, then 22 years old, had composed a number of classics; "Blowin' in the Wind," "A Hard Rain's A-Gonna Fall," and "Don't Think Twice, It's All Right."
Dylan's songs provided Joan with the impetus to make her own musical transition from traditional folksinger to interpreter of contemporary songs. Bob even encouraged Joan to write her own songs. She remarked to one reporter that Dylan's songs "...are the only things making any sense." Joan also commented that Dylan's songs transformed her into a "political folksinger," which given the historical events that were occurring at the time with regard to the civil rights movement and the burgeoning Vietnam War, provided her with the material to communicate political concerns to her audience.
It was only natural that they begin performing together, and Joan invited Dylan to sing with her at her concerts as a "surprise guest." (Dylan referred to these surprise appearances as "impromptu on purpose.") The effect that this had on building Dylan's career cannot be underestimated. One of their first important appearances together occurred at the Newport Folk Festival in July, 1963, where they performed "With God On Our Side" (originally released on the Vanguard recording Newport Broadside). Other significant performances soon followed; Joan's Forest Hills Tennis Stadium concert and the historic civil rights March on Washington, barely a month later.
In the midst of their joint concert appearances, and their rapidly evolving musical identities, Joan and Bob became personally involved. Joan's brother-in-law Richard Farina actually suggested to his friend Dylan that he should start "screwing Joan Baez" in order to gain recognition. The mythology surrounding them transformed them into the reigning "king and queen" of folk music. The chemistry that they shared in concert added to the excitement that the two generated together. Joan later said: "Performing with Bob Dylan was electric, especially during the early years. He had a reverse charisma that attracted me, the way he pulled away. I was the exact opposite, but there we were together. It was tension-provoking. The audiences were wild-eyed at the mythology of it all. And the material was fresh and unique." Joan would later document her memories of the relationship in "Diamonds and Rust," one of her best-known songs.
By the time of their joint U.S. tour in early 1965, their personal relationship was coming to an end. Dylan treated Baez badly, and Joan had finally had enough. Where the two individuals once shared more of a common purpose, their agendas were becoming ever more divergent. Later that year, Dylan symbolically severed his ties as folk "king" with his "electric" performance at the Newport Folk Festival. Meanwhile, Joan was becoming more involved as a political activist in both the civil rights and anti-war movements. Their final split occurred shortly after a U.S. tour, when both artists gave separate concerts in London.
Here is a collection of photographs of Joan Baez and Bob Dylan:
(Newly added photos can be found at the beginning)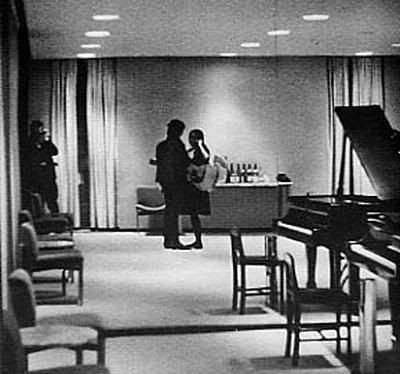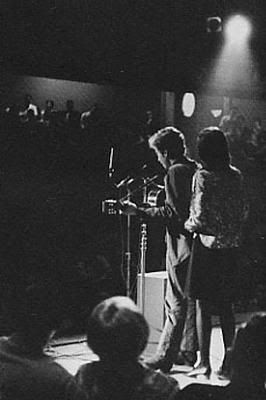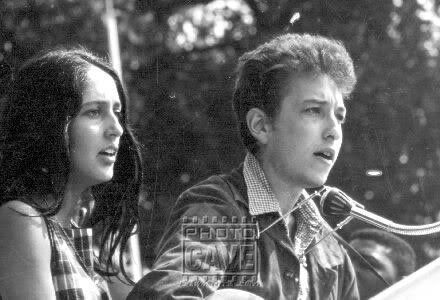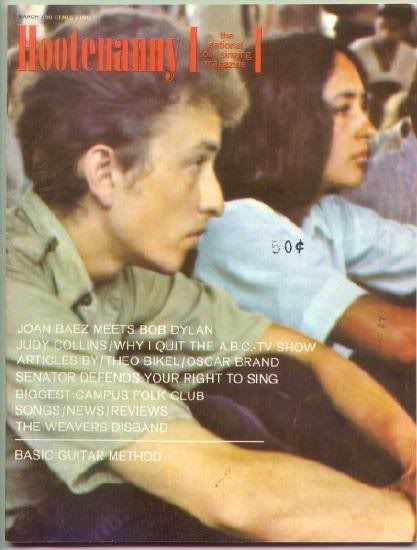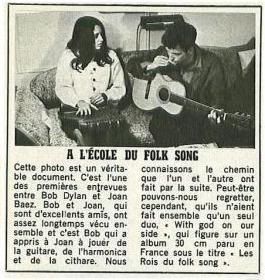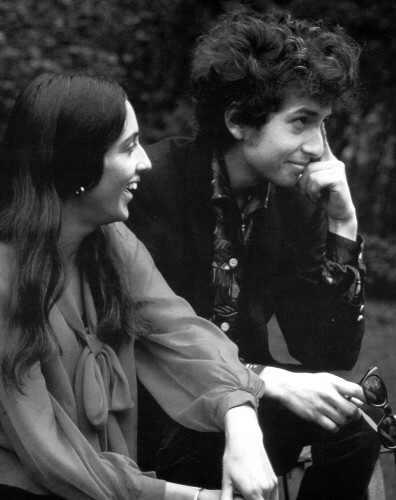 (manager Albert Grossman, Dylan, Joan peeking out from behind his shoulder, and Mimi Baez-Farina)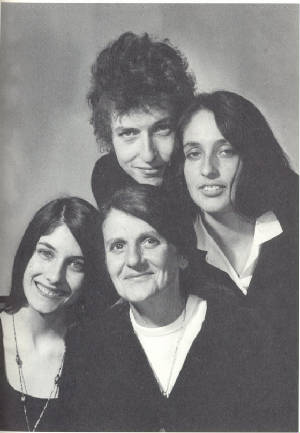 (With Mimi & Joan Sr)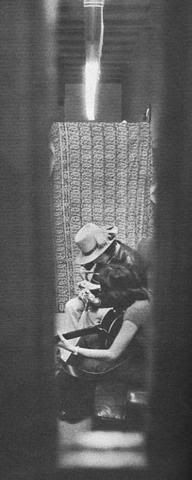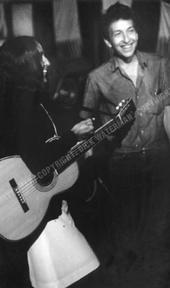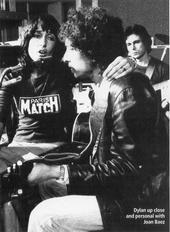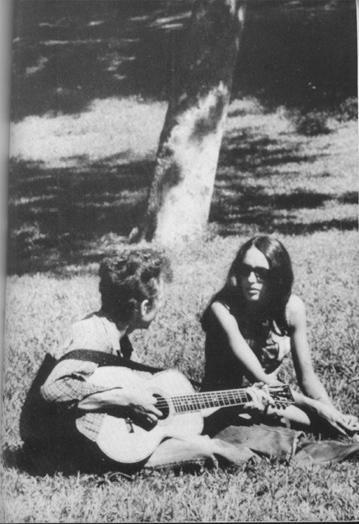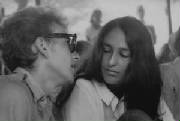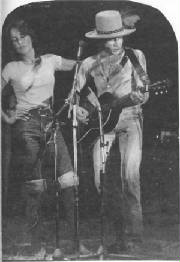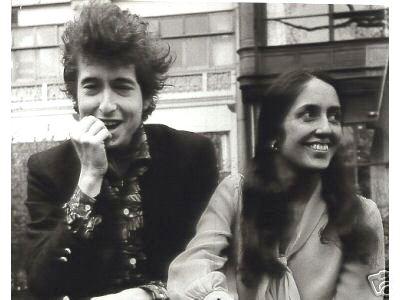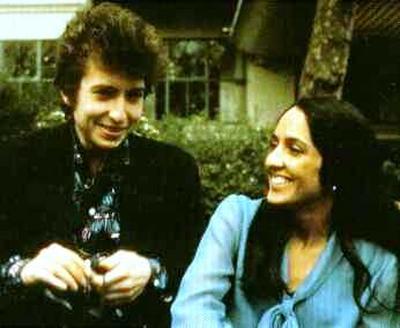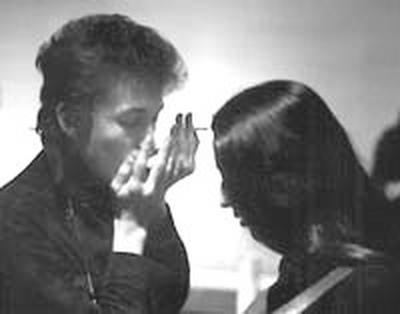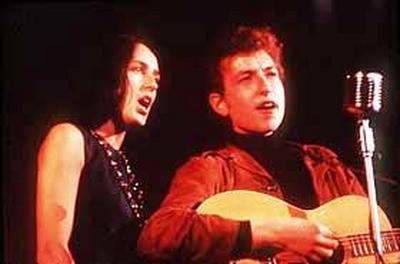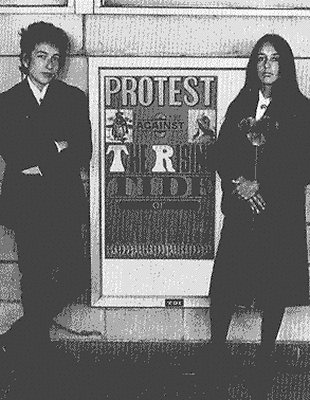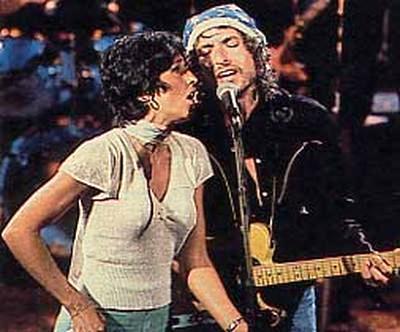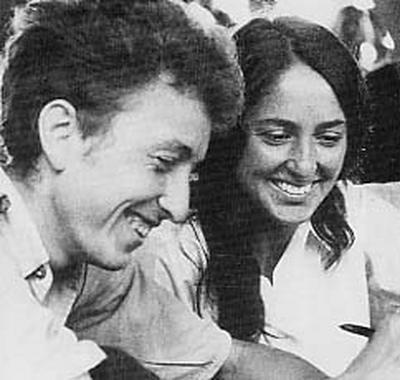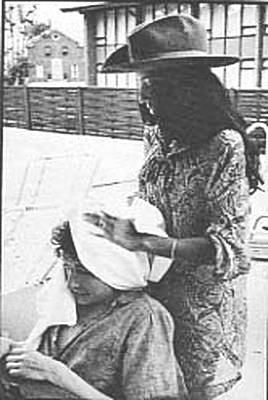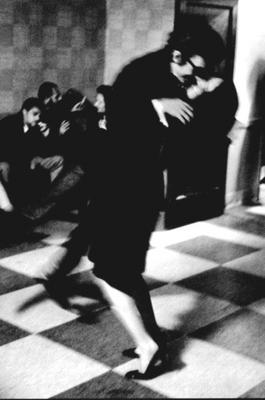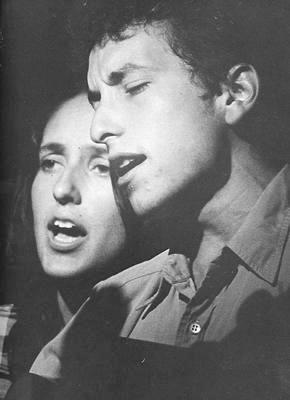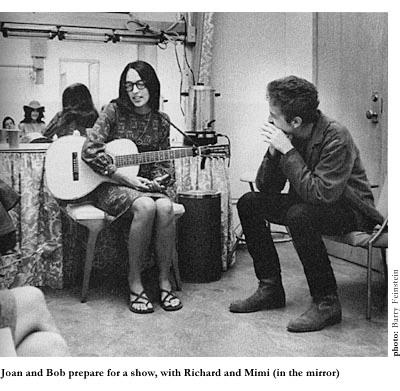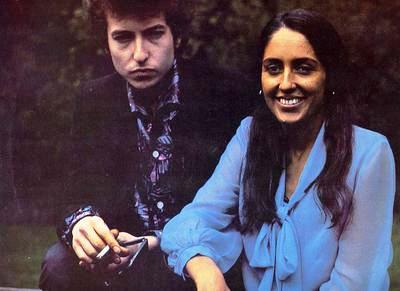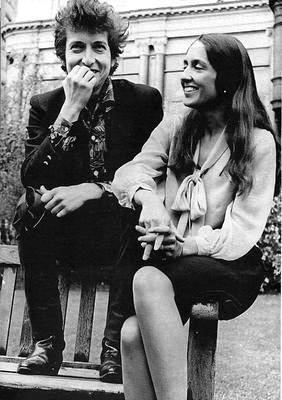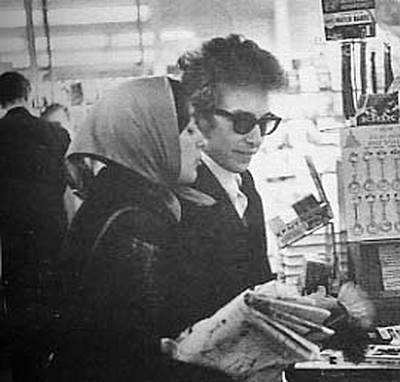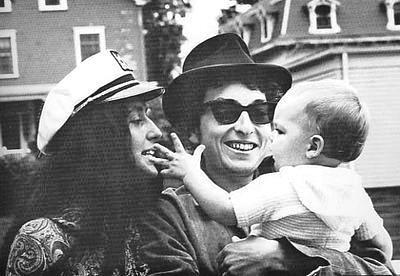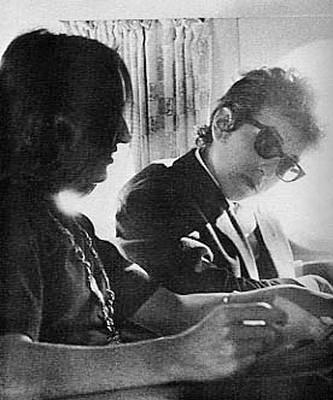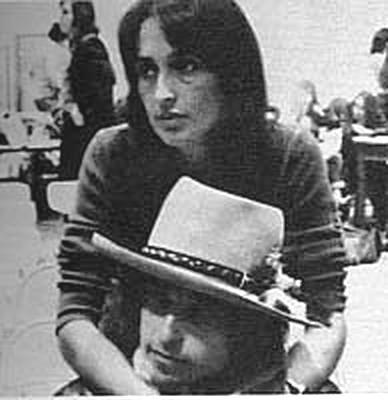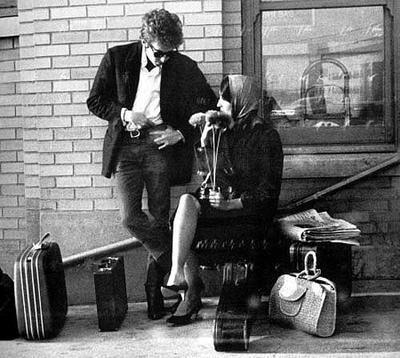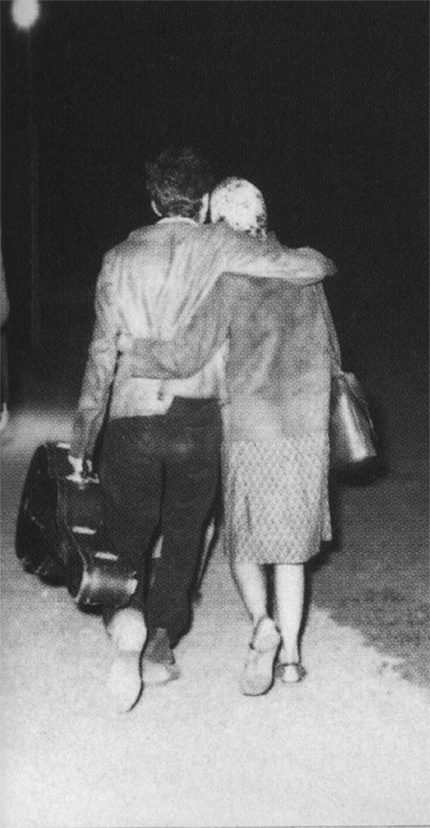 DIAMONDS AND RUST
(Words and Music by Joan Baez)

Well I'll be damned
Here comes your ghost again
But that's not unusual
It's just that the moon is full
And you happened to call
And here I sit
Hand on the telephone
Hearing a voice I'd known
A couple of light years ago
Heading straight for a fall

As I remember your eyes
Were bluer than robin's eggs
My poetry was lousy you said
Where are you calling from?
A booth in the midwest
Ten years ago
I bought you some cufflinks
You brought me something
We both know what memories can bring
They bring diamonds and rust

Well you burst on the scene
Already a legend
The unwashed phenomenon
The original vagabond
You strayed into my arms
And there you stayed
Temporarily lost at sea
The Madonna was yours for free
Yes the girl on the half-shell
Would keep you unharmed

Now I see you standing
With brown leaves falling around
And snow in your hair
Now you're smiling out the window
Of that crummy hotel
Over Washington Square
Our breath comes out white clouds
Mingles and hangs in the air
Speaking strictly for me
We both could have died then and there

Now you're telling me
You're not nostalgic
Then give me another word for it
You who are so good with words
And at keeping things vague
Because I need some of that vagueness now
It's all come back too clearly
Yes I loved you dearly
And if you're offering me diamonds and rust
I've already paid

"Diamonds and Rust" written by Joan Baez © 1975 Chandos Music (ASCAP)