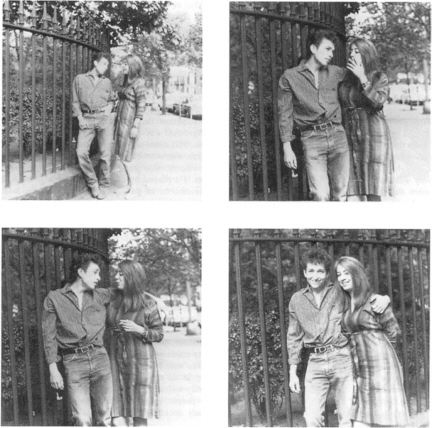 Click
HERE
to read a new interview with Suze, by Anthony DeCurtis.
EXCERPT FROM UPCOMING BOOK:
"I thought he was oddly old-time looking, charming in a scraggly way. His jeans were as rumpled as his shirt and even in the hot weather he had on the black corduroy cap he always wore. He made me think of Harpo Marx, impish and approachable, but there was something about him that broadcast an intensity that was not to be taken lightly. Bobby had an impish charm that older women found endearing. He had a touch of arrogance, a good dose of paranoia, and a wonderful sense of the absurd. But Bobby was also tough and focused and he had a healthy ego. The additional ingredients protected the intensive sensitivity. As an artist he had what it took to become a success."
click here to read a short piece written by Suze in the early 60's, in an article entitled "Slum Goddess".
learn more about their relationship at the Girlfriends page.
Susan Elizabeth Rotolo (born November 20, 1943), nicknamed Suze Rotolo, is now an artist who specializes in artist's books and who teaches at the Parsons School of Design in New York City.
She was born and raised in Queens, NY. Her parents were Joachim Rotolo and Mary Pezzati Rotolo. Her older sister is Carla Rotolo who also knew Dylan in the 1960s. Her uncle was the American portrait painter Pietro Pezzati.
Her political views are widely regarded as having triggered Dylan's topical songwriting. She worked for a time for the Congress of Racial Equality (CORE).
Also important, but less often noted, the influence of Bertolt Brecht on Dylan's songwriting and performing has been acknowledged by Dylan as stemming from her participation in Brechtian theater during their relationship. Dylan's interest in painting can also be traced back to his relationship with Rotolo. According to Howard Sounces in his book Down the Highway: The Life of Bob Dylan Suze became pregnant in 1963 by Dylan and decided to have an abortion.
She travelled to Cuba in June of 1964, with a group, at a time when it was unlawful for Americans to do so, according to a July 1, 1964 article in the New York Times. In an August 19, article in the same publication she is quoted as saying, in regards to opponents of Fidel Castro that, "These gusanos are not suppressed. There can be open criticism of the regime. As long as they keep it to talk they are tolerated, as long as there is no sabotage." 'Gusanos' means worms.
She married Italian Enzo Bartoccioli, a film editor who works for the United Nations, in 1972. They have one son who is a guitarist in New York.
In July 2004 a documentary produced by New York PBS Channel 13 and The New York Daily News was released in which Suze was interviewed. Then in November 2004, she made an unannounced appearance at the Experience Music Project, on a panel discussing Dylan's early days in Greenwich Village. She and her husband also were involved in putting on a memorial event for Dave van Ronk after the singer's death in 2002.
Rotolo appears in Martin Scorsese's film No Direction Home: Bob Dylan, a documentary focusing on Dylan's early career from 1961 to 1966. It played on the American Masters series on U. S. public television in September 2005.
Suze Rotolo, 1985
With Sylvia, of Ian & Sylvia fame.
Here is a collection of photographs of Dylan and his first love, Suze Rotolo.
(newly added photos can be found here at the beginning)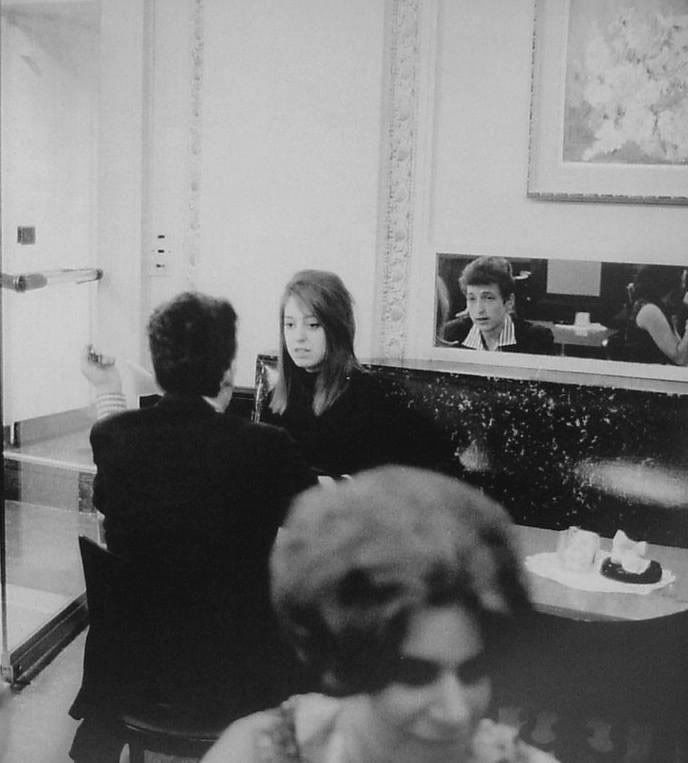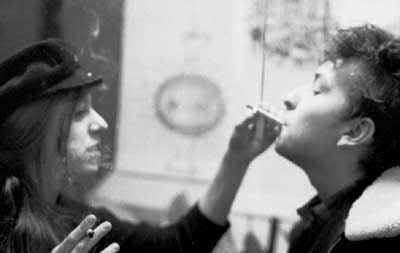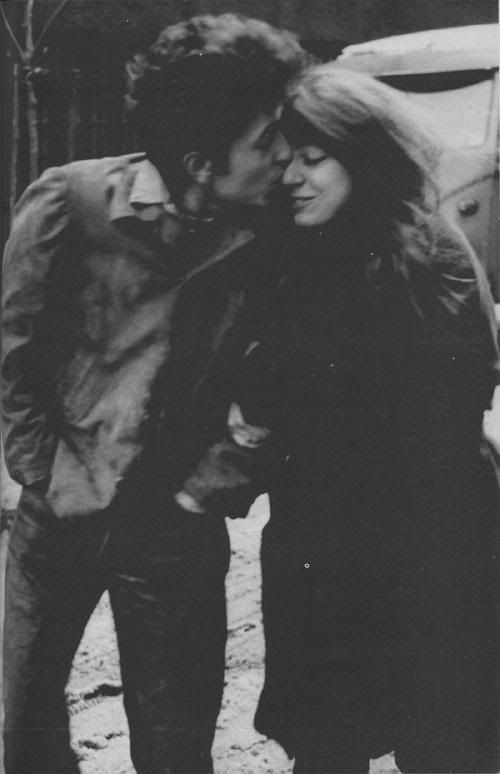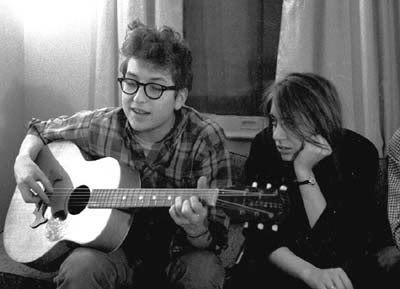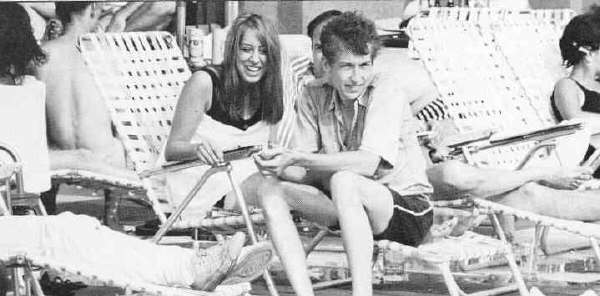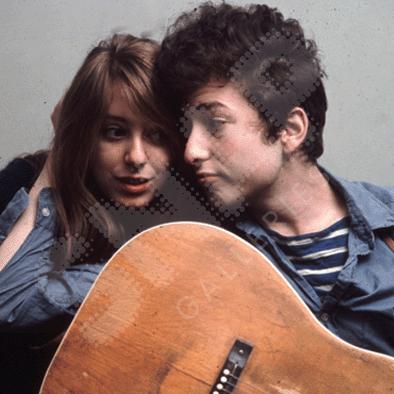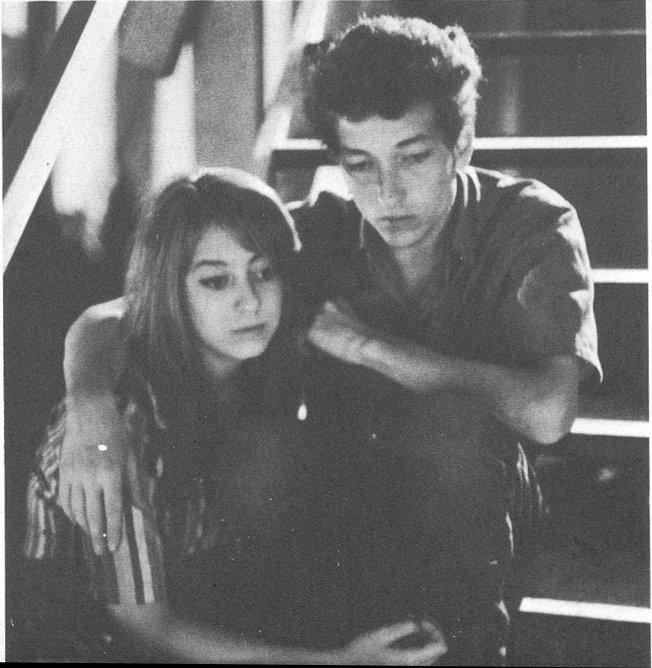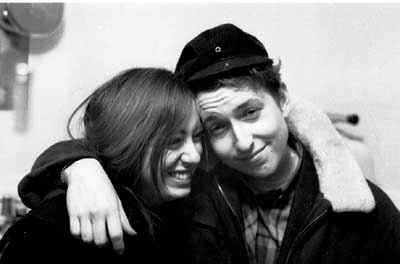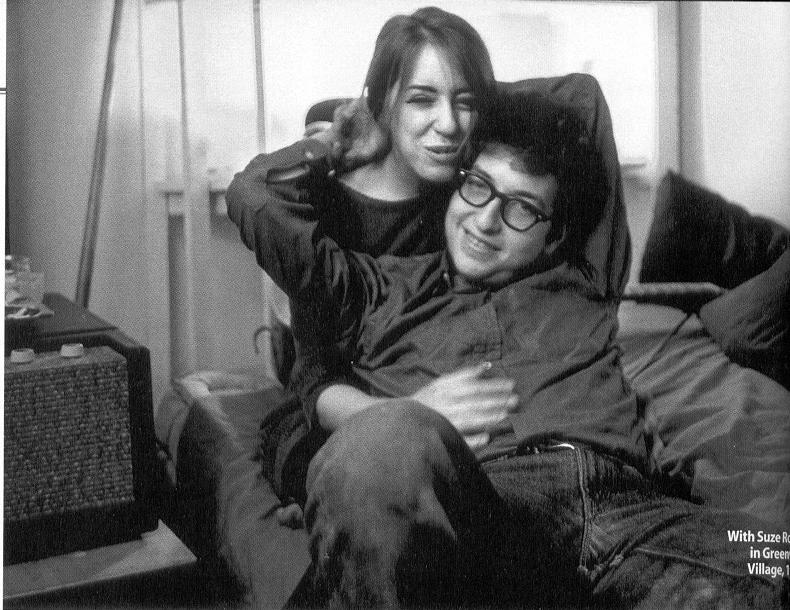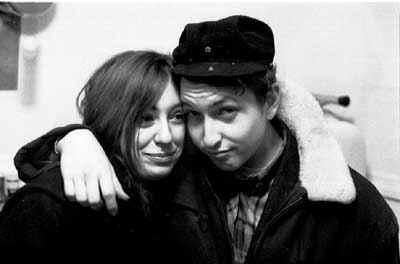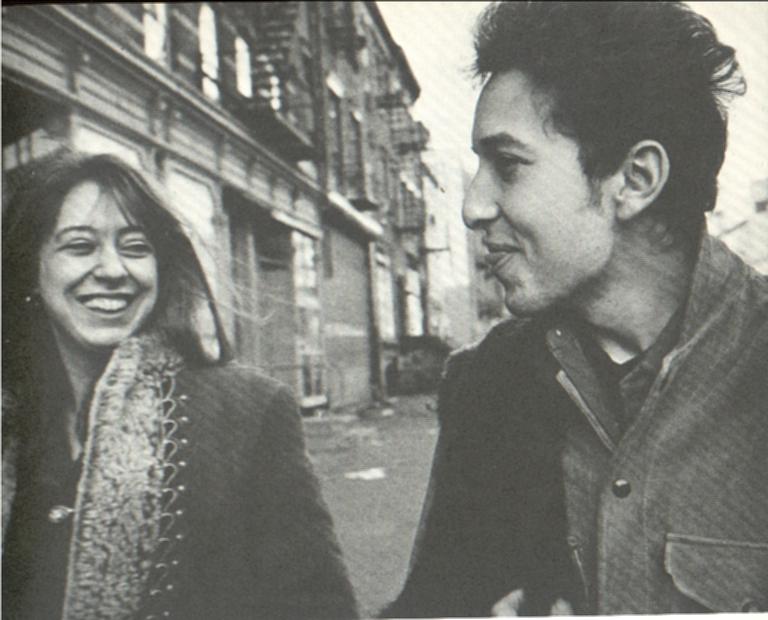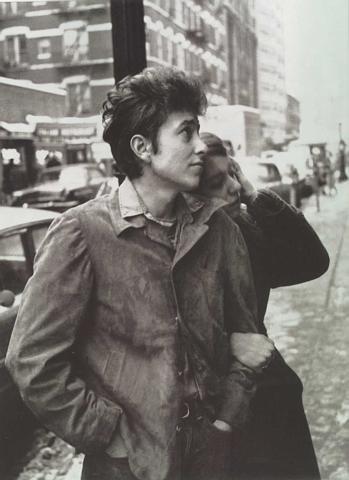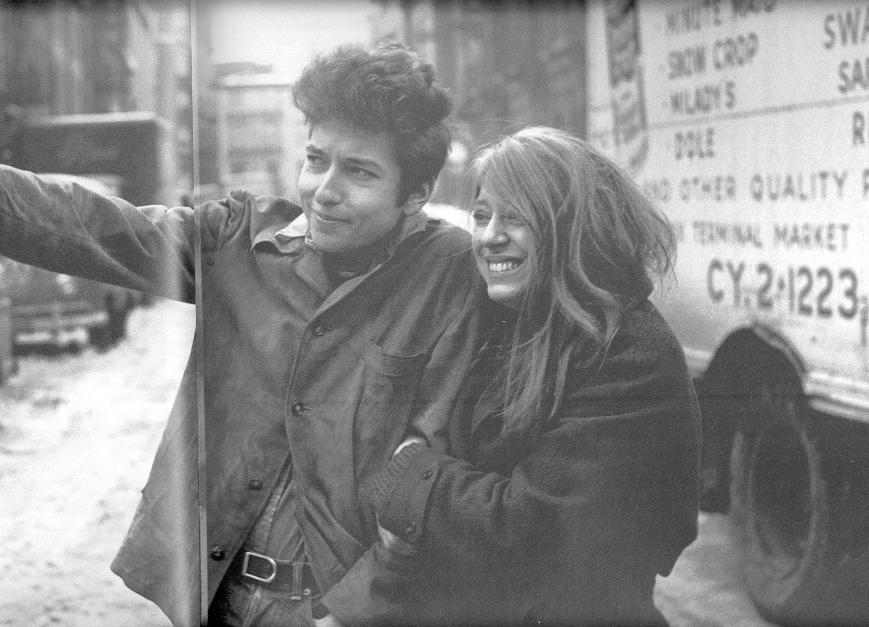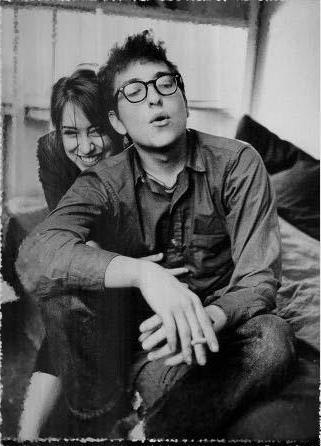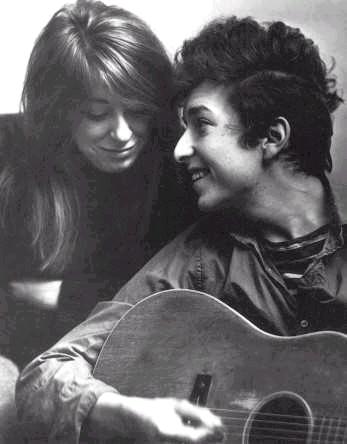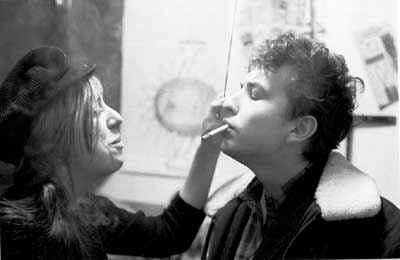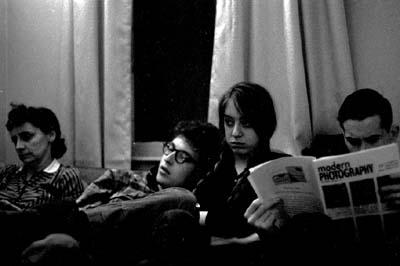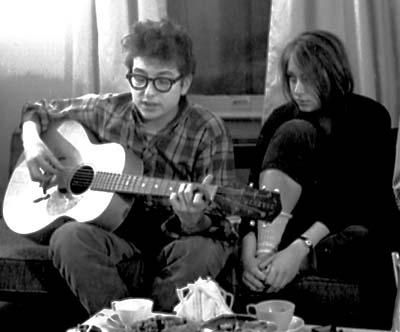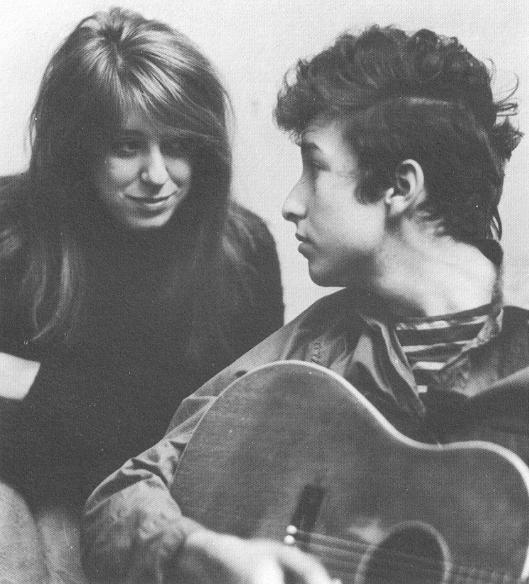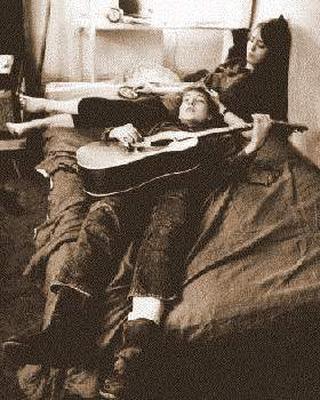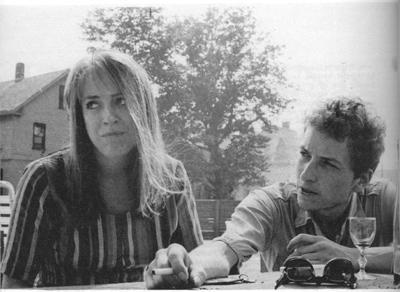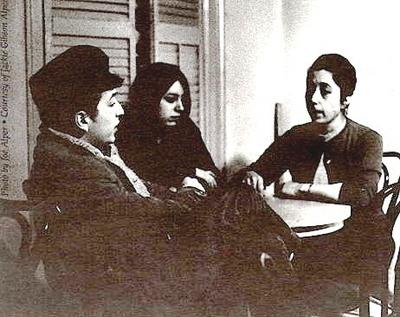 Ballad In Plain D
I once loved a girl, her skin it was bronze.
With the innocence of a lamb, she was gentle like a fawn.
I courted her proudly but now she is gone,
Gone as the season she's taken.

Through young summer's breeze, I stole her away
From her mother and sister, though close did they stay.
Each one of them suffering from the failures of their day,
With strings of guilt they tried hard to guide us.

Of the two sisters, I loved the young.
With sensitive instincts, she was the creative one.
The constant scapegoat, she was easily undone
By the jealousy of others around her.

For her parasite sister, I had no respect,
Bound by her boredom, her pride to protect.
Countless visions of the other she'd reflect
As a crutch for her scenes and her society.

Myself, for what I did, I cannot be excused,
The changes I was going through can't even be used,
For the lies that I told her in hopes not to lose
The could-be dream-lover of my lifetime.

With unknown consciousness, I possessed in my grip
A magnificent mantelpiece, though its heart being chipped,
Noticing not that I'd already slipped
To a sin of love's false security.

From silhouetted anger to manufactured peace,
Answers of emptiness, voice vacancies,
Till the tombstones of damage read me no questions but, "Please,
What's wrong and what's exactly the matter?"

And so it did happen like it could have been foreseen,
The timeless explosion of fantasy's dream.
At the peak of the night, the king and the queen
Tumbled all down into pieces.

"The tragic figure!" her sister did shout,
"Leave her alone, God damn you, get out!"
And I in my armor, turning about
And nailing her to the ruins of her pettiness.

Beneath a bare light bulb the plaster did pound
Her sister and I in a screaming battleground.
And she in between, the victim of sound,
Soon shattered as a child 'neath her shadows.

All is gone, all is gone, admit it, take flight.
I gagged twice, doubled, tears blinding my sight.
My mind it was mangled, I ran into the night
Leaving all of love's ashes behind me.

The wind knocks my window, the room it is wet.
The words to say I'm sorry, I haven't found yet.
I think of her often and hope whoever she's met
Will be fully aware of how precious she is.

Ah, my friends from the prison, they ask unto me,
"How good, how good does it feel to be free?"
And I answer them most mysteriously,
"Are birds free from the chains of the skyway?"