Joan Chandos Baez was born in Staten Island, New York on January 9, 1941 to the Scottish Joan Bridge and the Mexican Albert Baez. Through her parents, young Joan inherited a rich multiethnic tradition. She was raised as a Quaker, which taught her to be peaceful, loving, and see everyone as equal-even at such a young age. During her childhood, Joan and her family lived in various places all over the world, such as California, Iran, Sweden, Paris and then finally settling in California.
In 1956, Joan hears a young Martin Luther King Jr. give a lecture on non violence that influences her enormously. Also that year she bought her first guitar, starting her love affair with music.
A year later, Joan comitts her first act of civil disobedience by refusing to leave her high school (Palo Alto High School) during an air-raid drill. She also meets a Ghandian scholar, Ira Sandperl, who becomes one of her strongest political influences for several decades.
The middle child, older sister being the intelligent and independent Pauline and the youngest being the beautiful and delicate Mimi (
http://richardandmimi.com
), Joan always felt lonely and insecure, until she discovered music, and her talent for it. After her aunt took her to see Pete Seeger in concert, Joan's life was never the same. She realized you didn't need to look like a Hollywood movie star to be famous. She used her beautiful voice and skillful guitar talents to gain notice.
When her family moved to Massachusetts, Joan was first introduced to the new bohemian folk scene that was blossoming in Cambridge.
In 1959, the 19 year old Joan Baez made her debut at the Newport Folk Festival, and from there her career took off. She was quickly signed to Vanguard music, and began production on her first album.
In 1963, Joan refuses to appear on and leads a much-publicized artist boycott of ABC-TV's Hootenanny show due to their banning of Pete Seeger as a result of his political activism.
Known for her political outspokeness and peaceful activism, Joan became the spokeswoman for the 60's generation. Her music became the soundtrack to many protests against the Vietnam war, along with that of Bob Dylan's, who Joan would have a famous affair with from 1963 to 1965. They had begun their affair after they performed together at the 1964 Newport Folk Festival, and serperated around the time of Dylan's 1965 tour of England (documented in "Don't Look Back").
In 1965 Baez founded the Institute for the Study of Nonviolence (now called the Resource Center for Nonviolence) in Palo Alto, California. While her pacifist activities drew praise and wholehearted support from some, they also drew anger from others. U.S. Army bases all over the world banned her albums.
Also, to protest the Vietnam War, Baez refused to pay the 60 percent of her federal income taxes she believed went to support the U.S. Defense Department and its war effort. The Internal Revenue Service responds by placing a lien against her. She continues to withhold portions of her taxes for the next ten years. And after performing for President Johnson in Washington, she urges him to withdraw U.S. troops from Vietnam. Joan also continues her civil right work by appearing at a benefit concert at the Hollywood Bowl in Los Angeles, protesting the state's Proposition 14 which would allow segregated housing, and she becomes involved with the Free Speech Movement at the University of California at Berkeley. As the students take over Sproul Hall, Joan instructs them to "Have love as you do this thing and it will succeed." The police wait until she departs the building before moving in and arresting 800 students.
A rising national leader in the growing protest movements of the 1960s, Baez soon considered her work for social change more important than her performing career.
Several months later she was arrested and jailed for her active opposition to the Vietnam War draft.
On March 26, 1968, Joan marries activest David Harris and she later gives birth to their child, a son named Gabrielle.
In one of the highlights of her career, Baez performed at the famous Woodstock Music Festival, held near Bethel, New York, during the summer of 1969. The five-day event brought together some of the most important popular musicians of the decade. The concert, with its theme of "five days of peace, love, and music," drew more than 500,000 people from all over America.
During the 1970's Baez managed to continued her musical career and her social and political activities. She recorded Robbie Robertson's (of the Band) compostion "The Night They Drove Old Dixie Down," for her album Blessed Are... album, and it became one of the most popular songs of 1972 and Baez's biggest commercial hit.
Baez released her second autobiography (her first being 1968's Daybreak) And A
Voice To Sing With in 1987.
In 1988 she toured the Middle East, hoping to find solutions to the conflicts between the area's warring countries. In 1991 she announced plans to develop low-income housing in California. Two years later she toured the city of Sarajevo in war-torn Bosnia and Hercegovina (part of the former Yugoslavia), seeking a peaceful end to the conflict there.
Baez's powerful and wide-ranging voice is what first brought her fame, and it has endured well throughout the years. In an early review in the New York Times, Bob Shelton wrote that her voice was "as lustrous and rich as old gold."
Baez's 1993 release, Play Me Backwards, was nominated for a Grammy award for best contemporary folk album. Many critics considered it the best album of her long career.
Most recently Joan Baez released her album Dark Chords On A Big Guitar, an album dedicated to controversial film maker Micheal Moore.
Miss Baez has just finished one of her long tours, and is spending her time to relaxing at her home in California.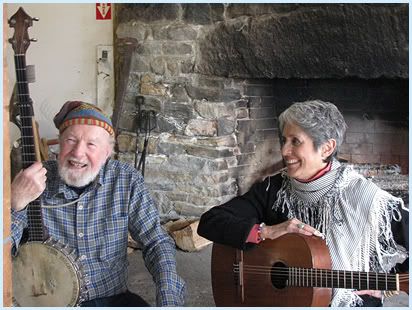 Pete Seeger and Joan, from recent issue of Rolling Stone magazine.
In Italy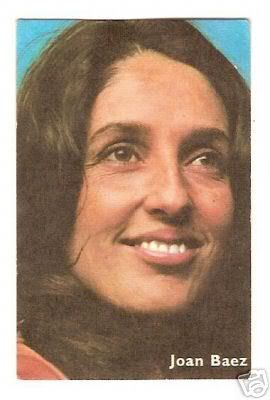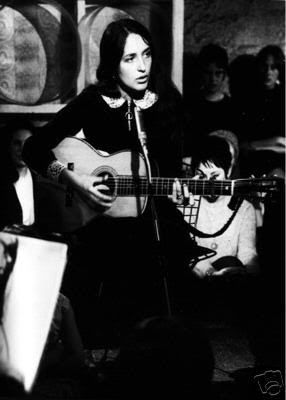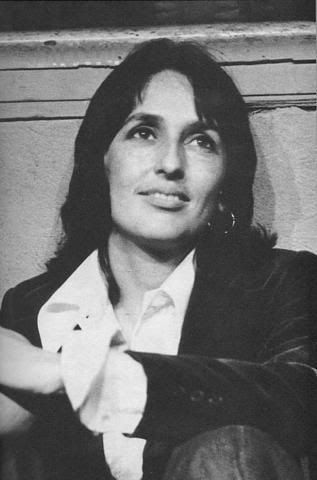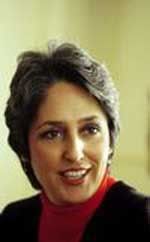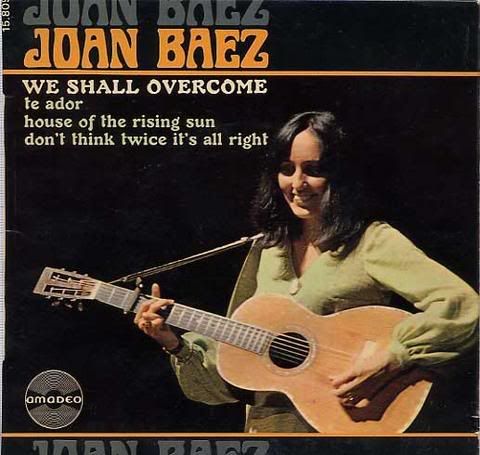 1970's compilation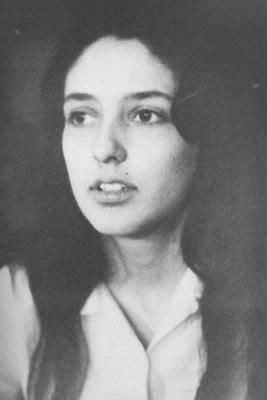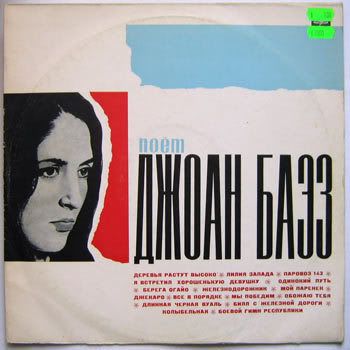 A Russian album cover
WIth Ira at Free Speech rally.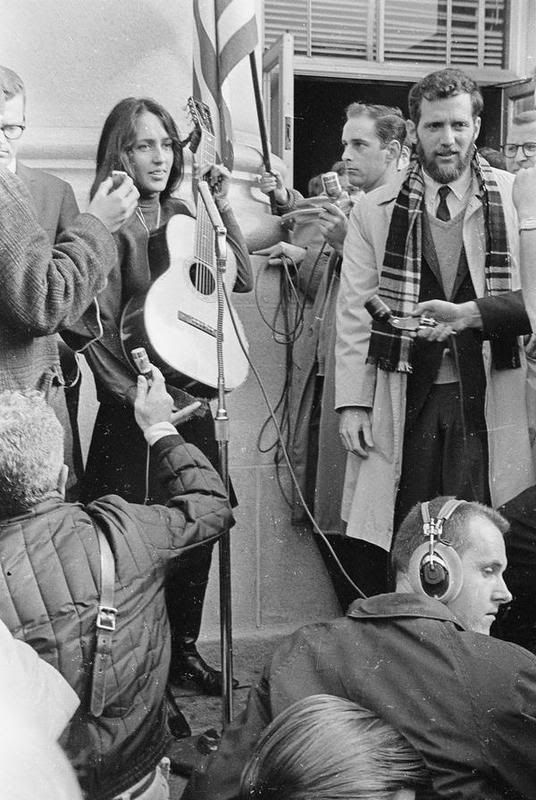 later inside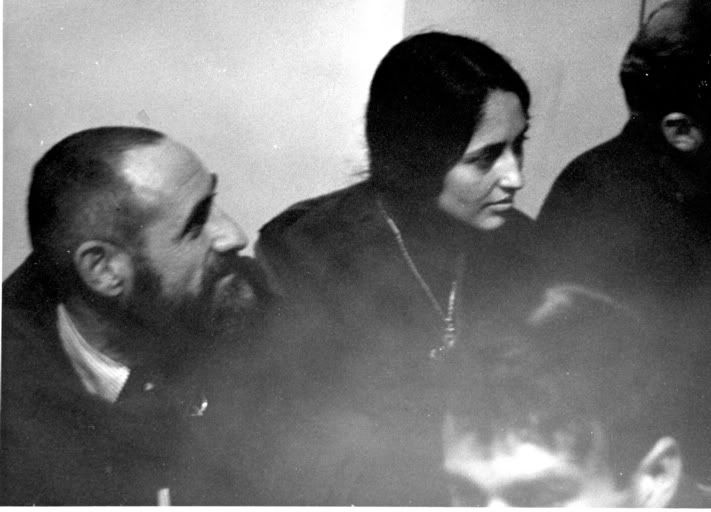 Ira Sandpeal and Joan, 1965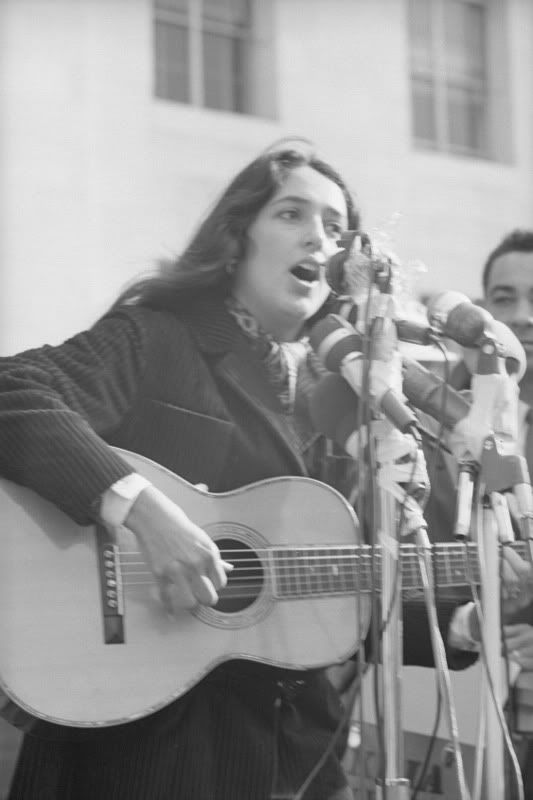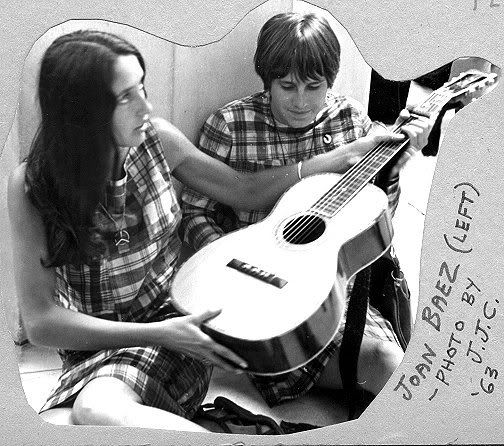 with the lovely Kim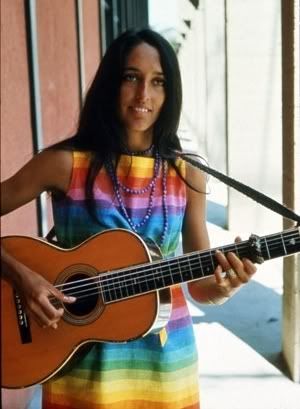 very colorful dress!
"Joan Baez comes!"
the famous cross necklace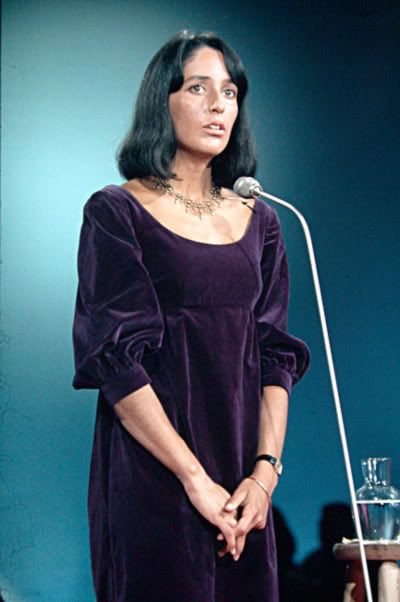 promotional poster
circa 1964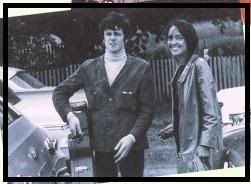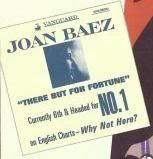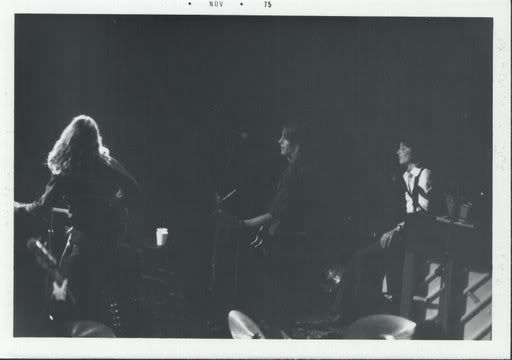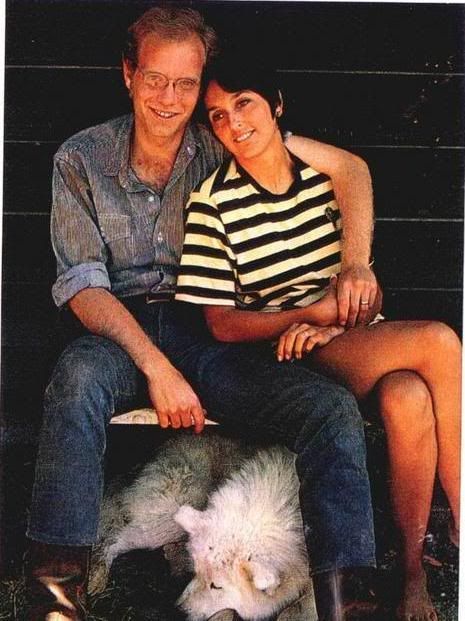 From an article about Joan's involvement in the anti-war movement.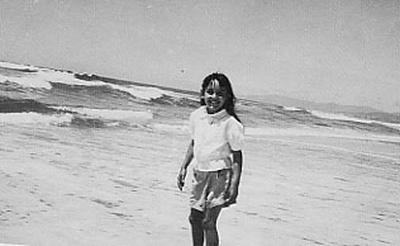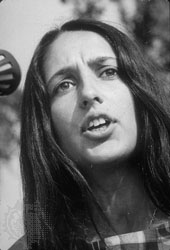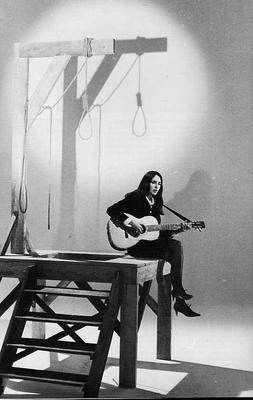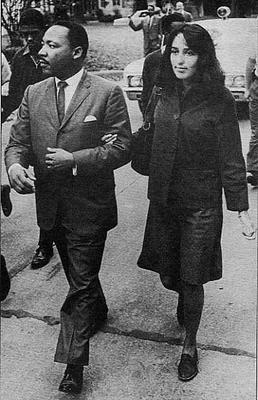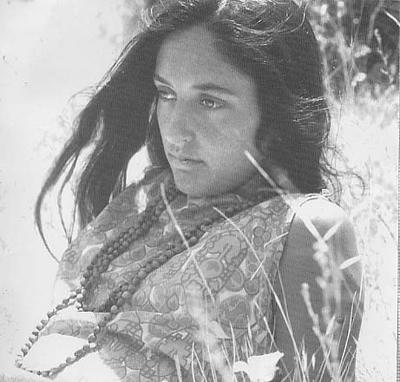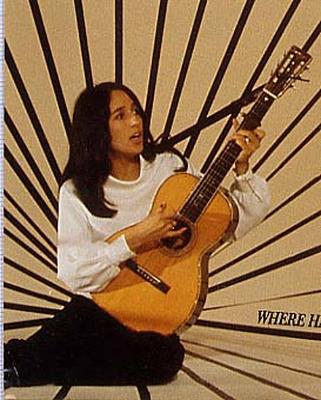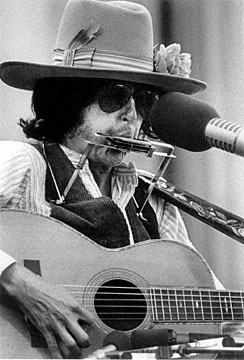 Joan Baez dressed up as Bob Dylan!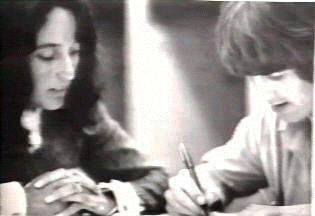 With George Harrison in 1965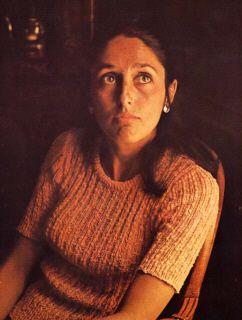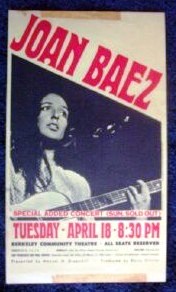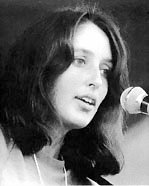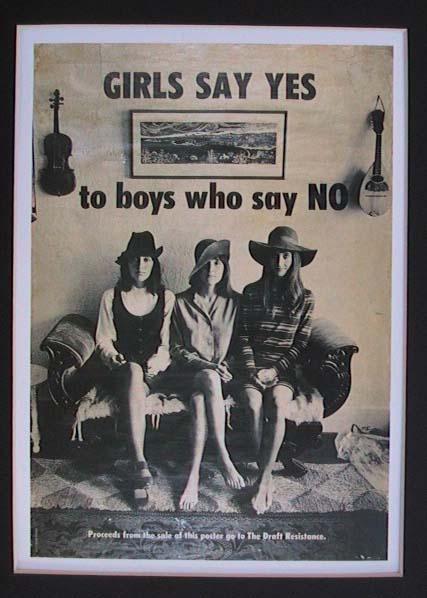 Joan Baez, Pauline Baez-Marden and Mimi Baez-Farina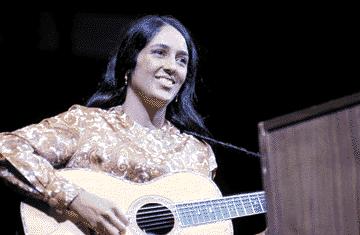 My Hero